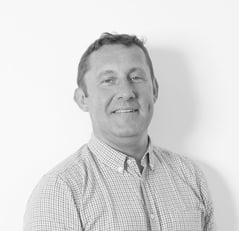 Brand safety has been a hot topic over the past several months. As they look to revamp their strategies on ad and content engagement, we sat down with Richard Sharp, VP EMEA at Grapeshot, to talk about the rapid growth in programmatic and what brands can do to combat inappropriate placements. Grapeshot's core technology and product suite offers a fully customizable, transparent and scalable solution, giving its clients simple, integrated control over brand safe targeting.

Please tell us a little bit about yourself.
I lead all business operations for the EMEA region at Grapeshot. My background is in digital, having worked in the industry for 20 years, primarily in media and linking audiences with media. I was first drawn to Grapeshot because of its programmatic beginnings and the fact that it is truly pre-bid. When you are executing a campaign, you need to know what you are bidding on before you do so. With Grapeshot, while we can do both [pre- and post-bid], its pre-bid capabilities and the fact that it is a true adtech partner—we use our signals and automation to make publishers', brands' and agencies' lives easier—was compelling.


What is one of the biggest changes you've seen in programmatic?
The speed at which it has quickly grown. When programmatic first emerged and ad networks and exchanges were just starting, I was working in a media business and we couldn't see it getting the scale that it would as quickly as it did. The big change was that we used to work with publishers directly and then suddenly, we executed our media through programmatic and exchanges.


What challenges do you see in the industry?
Again, it is the speed. Sometimes it is a fish bowl mentality. A classic example is brand safety – the topic has been around for a long time. But people have forgotten about it and it took all these new incidences and articles to come out in February to remind everyone that brand safety was the most important thing.

Another thing was that everyone became obsessed with viewability and forgot about context and how important it is. Both elements are key and we need to keep our eye on all of the ingredients that deliver great experiences, not just the the trending topics.

That is where the Eyeota/Grapeshot partnership is very interesting. Eyeota is focused on audiences and Grapeshot is focused on the environment—marry these two and you have a very powerful tool to be used by advertisers.


How do you work with brands to ensure their ads are being placed on appropriate sites or pages?
Grapeshot is all about real-time context. We look at the page and, through our technology and algorithms, we understand everything on the page and link them together to understand the meaning of the article. That way, we can better inform about the content of that specific page and ad environment.

What is great about Grapeshot is that we will go down to the URL level. Other brand safety providers will see that it's a new site but will not go into the actual page itself. We look at the page in a pre-bid environment and ascertain exactly what that page is about—and that is crucial. If you look at The Sun or The Daily Mail, there is a lot of content that is considered unsafe but there is also content that is perfectly fine. If you are not going down to the actual page or URL level to see what the particular article is about, it will be difficult for you to give really good and really sound advice around brand safety and you can end up sacrificing reach due to overzealous blanket blocking.

Nothing is 100% safe—anywhere, but particularly in digital. What you need to do is work with numerous brand safety providers. There isn't one silver bullet solution for brand safety. Brands should work with a Grapeshot or a Moat or similar and combine the two. No one out there is doing everything perfectly but there are ways to optimize performance and minimize risk. One of the simplest is using both a pre-bid supplier in conjunction with a post-bid solution. Pre-bid contextual solutions ensures less risk via a primary, pre-bid filter and also less post-bid blocking which reduces wastage and the need for reconciliation.


How do you think GDPR will affect data collection, the quality of data and consumer's online interactions?
From a Grapeshot point-of-view, it won't affect us because we are a cookie-less technology. For everyone that is working in that data environment, GDPR is another way for us to work together. It has been this way for many years now—not simply the last 12-18 months. There has been panic around what this is and the latest piece of legislation and concerns that cookies are going to disappear.

Businesses need to work towards making the internet a better place. What I love about digital—the internet as a whole—is that the innovation is there. Ultimately, this will make it better. It will make people more comfortable sharing their data.

For example, recently I spent some time at the Unruly Home of the Future, which is Unruly's vision of what homes will look like in 2020. What they were talking about was that the brand experience with advertisers will be outside the home while the point of sale will be inside the home. They were looking at technology like Amazon's Alexa, where the more you get comfortable sharing your data, the more it will become an extension of you. The machine learning is there.

With GDPR, although clunky, it will make things better. However, the market will have changed so much by the time this iteration comes out [May 2018], there will be another one. There is continual catch-up out there. We, as practitioners in the space, need to take ownership for ourselves.


What market trend are you excited about?
The whole personalization and safe use of data—do I feel comfortable around it?—and finally context is coming back. For so long, the only thing that mattered in the industry was viewability. It is now coming back to where it should be that context is king, from the messaging to the nuances of what you do.

Just because I visited your site and abandoned the basket when I was buying a book does not mean you should serve me an ad when I am watching sports or a video. If you do, tailor it to what I am looking at. Have dynamic creativity in there and think about how you interact with me. That is the fascinating and interesting thing, where context and the environment have, once again, become very important for people.


What makes you human?
Morals and family make me human.