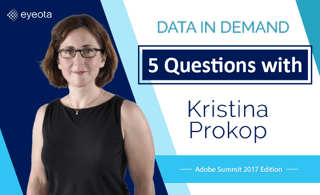 Eyeota recently attended the 2017 Adobe Summit, where the future of digital and the latest industry trends were discussed. Kristina Prokop, Co-founder and EVP Global Platforms at Eyeota, shares some thoughts and takeaways from the event.


Q: Were there any topics that stood out during the Adobe Summit 2017?

Kristina: Adobe's session on "Audience Marketplace: Programmatic access to second- and third-party data" was pretty popular. This isn't surprising given the industry's love for programmatic and the critical role audience data plays in ensuring brands are targeting the right customer and driving successful campaigns.


Q: Which new products/services are you excited to see further develop in 2017?

Kristina: Adobe's Audience Manager, which helps you build unique audience profiles and create segment to use across digital channels, is very impressive. As these types of tools develop and become more available, we're seeing brands really start to move forward with more mature and innovative data strategies using first- and third-party data.

Another very interesting tool is Adobe Target, an optimization solution that allows digital marketers to rapidly experiment and personalize customer experiences. Personalization for the purpose of conversion rate optimization has become the name of the game and data drives the ability to create unique experiences.


Q: Customer experience was one of the main of the summit, with Adobe introducing several new solutions to help brands personalize experience. But engagement is not just about technology offering. To complement these new solutions, is there any strategic advice you'd give brands to help them succeed?

Kristina: While engagement typically relies on storytelling and interactivity, using data to influence how a story or, say, a questionnaire can be delivered in a highly personalized way can produce successful results over time. The secret is in being able to glean the most applicable insights from the available data by looking at it in non-obvious ways. For example, a travel business that identifies a pattern in a website visitor's travel behavior can show personalized travel package campaigns that cater to the traveler's personal desires. This approach can be applied to surveys as well to develop a reliable set of first-party data.


Q: Every year, the industry vows that "mobile is the next big thing." This was also addressed at the Summit by Facebook's VP of Business & Marketing Partnerships, David Fischer. What are your thoughts on mobile, and why does it tend to always be "next" but never here

Kristina: I think mobile is there, but we are still honing in on ideal advertising formats or monetization strategies. Mobile is already "the next big thing" in terms of usage, but the dollars haven't caught up. That is where the big disconnect is. Mobile is here and it's here to stay. We, as a marketing community, just need to catch up.


Q: What was your favorite panel, and why?

Kristina: The MGM panel with Michael Aburas, Integrated Media Director at MGM Resorts International, and Becky Siegel, Manager of Business Development at Adobe. The session focused on leveraging the Adobe Audience Marketplace to enrich 1st, 2nd and 3rd party data, and included experience and case studies around data usage.