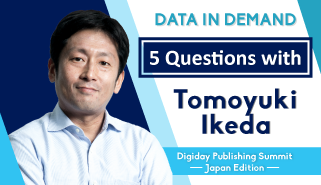 We've had the pleasure to attend yet another great Digiday Publishing Summit last month, held in Japan. Our Head of Business Development for the Japan region, Tommy Ikeda, shared his take on the event and key takeaways.




Q: Thanks for your time, Tommy. Please tell us how Digiday Publishing Summit Japan went.

Tommy: The event was a great opportunity for us to meet with top tier Japanese publishers. There is no other event in Japan where a lot of premium publishers and technology vendors connect to discuss challenges they're facing and actions they're taking to overcome them.


Q: Were there any surprising trends that you saw?

Tommy: There weren't any surprising trends. We continued to discuss key aspects of programmatic solutions for publishers, with an extra focus on quality over quantity, how to monetize audiences and collaboration between publishers and platforms. While there are no quick answers, it is important for players in the industry to continue to try new and different solutions and accumulate knowledge. This creates a better understanding of what solutions are available and how they can address your needs.
Eyeota helps publishers monetize their audience data and provides a detailed report that gives them insights into their audiences. These insights provide publishers with detailed information on the online behaviors and preferences of their customers, enabling them to deliver better and more relevant online content.


Q: What are the biggest challenges for publishers in Japan?

Tommy: Maintaining loyalty and monetizing their audiences are a couple of the biggest challenges, in addition to education. Publishers in the region are still slow to adapt to the emerging programmatic industry. Programmatic provides them with an effective and efficient way to leverage their data and monetize their audiences.


Q: What were the top takeaways from the Summit?

Tommy: The Summit was truly very informative. Some of the key points included:
Challenges publishers have and how Eyeota is well-positioned to support them





Most publishers need more resources and people who understand programmatic. So just providing good technology or a platform is not enough. We need to help educate them on the technology and how they can leverage it
Attendees started to think that pursuing just volume (such as number of PV and clicks) does not work well for their campaigns. Quality of the data is crucial—this creates an opportunity for Eyeota as we focus heavily on ensuring our data is of the highest quality


Q: How do you think programmatic has changed in Japan over the past three years?

Tommy: I don't see any big changes in the industry but programmatic is growing continuously. The most obvious trend is the growth of mobile. In 2015, the mobile ad market surpassed desktop. This shows that more and more advertising dollars are going to mobile.
There has certainly been a slower adoption to programmatic in Japan. This is mostly due to the lack of knowledge and understanding of the technology as well as advertisers focusing too much on metrics such as clicks and CPA. As a result, advertisers and agencies tend to use certain ad networks and retargeting only. Furthermore, bots and ad fraud are hot topics in Japan, causing concerns on the quality of data and audience targeting.
This creates a major opportunity for companies like Eyeota to help publishers and advertisers implement high-quality audience data in their marketing and outreach strategies. Especially as more agencies begin to allocate their market budgets to programmatic.
---

Visit the Eyeota Publisher Resources Center,
to get started on turning your audience data into additional revenue.