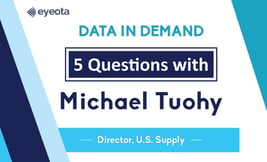 Over the past few months, our Director of U.S. Supply, Michael Tuohy, attended several publishing and media conferences to meet with publishers and learn more about what's keeping them up at night. He shares some insights from his conversations.
Q: Are publishers becoming more comfortable with programmatic?

Michael: There has been a growing interest in programmatic over the past few years. As the definition changes, so does the conversation. Programmatic is about automation. It's about efficiency and being the "pipes" that make digital advertising work. It isn't real-time bidding or the "Race to the Bottom" anymore. It's now about private marketplaces, header bidding and revenue strategy. With new strategies emerging and the changing programmatic landscape, we'll see this discussed more.
Q: What are publishers getting excited about?

Michael: There is a lot of interest in header bidding as it is more favorable to publishers. The move to first price auction is helpful to publishers and squeezing DSPs. Publishers are taking more control over how they sell programmatically, using fewer partners and seeing an increase in programmatic-related revenue.

There is a lot of talk about its impact on DSPs, especially about extra costs incurred that are the results of seeing a lot more bid requests. Publishers don't need as many partners now, so that will hurt, too. This will likely lead to pivots, consolidations and DSPs going out of business.
Q: What other issues were top of mind?

Michael: Publishers talked a lot about their relationships with Facebook and Google. Publishers worry about how reliant they are on them, the lack of control they have over the relationship, and the concern as fewer dollars make it to them.

It seems that every event has a lot of discussion around creating revenue from video content. Publishers struggle with creating enough content, building audience / inventory and monetization that justifies the investment in video.

Ads.txt is a hot button item. Publishers pretty much agree it is a part of the solution and a good start. Adoption is still a bit low. It has been interesting seeing some publishers push others to get it implemented asap.
Q: Domain spoofing has led to the development of ads.txt. What is it and how does it affect publishers and advertisers?

Michael: Domain spoofing occurs when nefarious publishers, ad networks or exchanges obscure the nature of their traffic to resemble legitimate websites. This leads to lost revenue for publishers, due buyers of digital inventory thinking that a) they are buying legitimate traffic on a publisher's site and b) that they are can get it for less. Both of which are not true in cases of spoofed sites.

To give an example, The New York Times explained at a recent event that on many occasions they have had discussions with agencies and brands about their video inventory. The buyers would tell The New York Times that they were already buying it programmatically, which is impossible. The New York Times does not make any of their video inventory available via exchanges. For The New York Times, this represents lost revenue. For the agency and brand, they have been defrauded and get no value for the media dollars spent.
Q: As publishers look for new ways to maximize opportunities from their sites, what can they do to generate revenue and gain value?

Michael: Publishers are struggling to find new advertising units that deliver revenue and a positive user experience. Here are a few ways they can generate revenue and glean value from their assets:

Subscriptions. Publishers had discussed creating subscription models for their content sites. Before they go behind a paywall, there are several questions to answer:
How much can publishers charge to provide access to content?
How much content should be free to view to allow visitors to understand the value?
Can publishers create enough unique and compelling content?
Will site visitors pay for content they find free elsewhere?

Newsletters. This is a great way to drive traffic as click-through rates tend to be high, creating inventory on the site. This is also a great way to distribute video content, and most newsletters carry advertising (sold on CPMs).

eCommerce. Some publishers have incorporated eCommerce on their sites, such as adding Amazon links to product reviews, helping them generate revenue through a percentage of sales, to curating products and creating a shopping experience on the site.

Events. More publishers are creating their own tent pole events to attract more visitors. Through events, they can generate revenue from sponsorships and admission.

Data marketplaces. Another way publishers can monetize their visitors is by selling non-PII user data to brand advertisers and agencies programmatically. As an additional revenue stream, this wouldn't require much efforts from publishers.
Visit the Eyeota Publisher Resources Center
to start gaining value from your audience data.