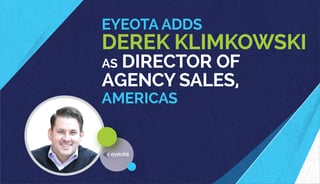 Strengthening the rapidly growing team in New York, Eyeota has announced the addition of Derek Klimkowski as its new Director of Agency Sales, Americas.



Reporting directly to Elizabeth Christensen, General Manager, Americas, Derek is responsible for strategic outreach to major agencies across the U.S. and the development of key relationships in the region.


Elizabeth commented,
"The U.S. market continues to lead in the programmatic sector, with an expected uptick of 28% year-over-year to 2018. As brands invest more heavily in data for their marketing campaigns, this is an opportune time for us to bolster our presence and offerings in the region. As a veteran in the industry, Derek has in-depth background building relationships and driving results through his sales and business expertise. He will be instrumental to our growth in the region, and we are thrilled to have him on board."

Derek has more than 10 years of experience in direct and programmatic sales across a range of industries, including media, advertising, pharmaceutical and travel. Most recently, he was Director of Programmatic Sales at Drawbridge, the leading anonymized digital identity company building cross-device technology that changes the way brands connect with people.


Derek commented,
"When it comes to advertising and marketing, the main goal is to generate favorable results that ultimately impact positive ROI. Programmatic ad buying allows brands to pinpoint the audiences that they want to reach out to, ensuring that they deliver the perfect message, in the perfect location, at the perfect time. This minimizes the amount of wasted media, enhancing overall campaign effectiveness while also making solid use of the marketing budget. Eyeota is at the forefront of audience data and I'm excited to be a part of this hyper growth."

Previously, Derek was Media Sales Manager at Orbitz Worldwide, which was acquired by Expedia, where he drove direct and programmatic sales. He also held various sales positions at Liberty Mutual, Novartis, MeetMe and adMarketplace. Derek received a Bachelor of Arts degree in Finance from Bentley University in Massachusetts.