Australia's sporting events are as wide-ranging as they are intense, with heavy competitions in cricket, rugby, horse racing and, most of all, Australian rules football (which has several aliases - Aussie rules, footy and Australian Football League/AFL).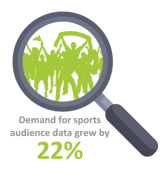 With sports rooted deeply in Australia's culture, brands are constantly looking to personalize their campaigns to reach these hyper-engaged fans. This has caused the demand for sports audience data to grow 22% and attract interest from a wide range of sectors, including Automotive, Retail, CPG/FMCG, Internet & Telecom and even Finance.






But brands that have shown the most interest in sports audience data in Australia were Media & Entertainment. One-third of the demand for Sports & Fitness segments is, in fact, from this sector, with demand peaking around sporting events.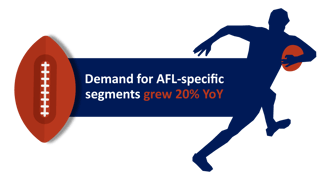 Demand for AFL-specific segments grew 20% YoY, making it the second most desirable sporting data point. No surprise given that Australian football is one of the most popular—if not the most
popular—sport in Australia, ranked the 4th best-attended sports league in the world in 2015.



Generally, brands begin to spend for their AFL campaigns in February, with a heavy ramp up heading into the AFL finals in September, with June, July and August being peak months driven by Sports Betting and Sports Clubs. 84% of AFL impressions are served between Q2 and Q3.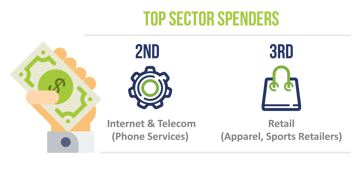 Gambling & Betting and Sports brands were top consumers of AFL and rugby audiences, making up 50% of the total demand. Internet & Telecom (Phone Services) and Retail (Apparel, Sports Retailers) were the second and third top sector spenders, respectively.



Scoring with AFL Fans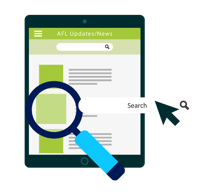 Search engine trends show that AFL fans are rigorous in their news updates, constantly staying informed on player and team stats and other AFL-specific news throughout the season. Brands can use this chance to reach AFL fans all season long, not just during the months leading up to the finals.



Understanding the makeup of these fans is crucial to any successful campaign. AFL fans may live, eat and breathe AFL news, but they also have a wide range of other interests.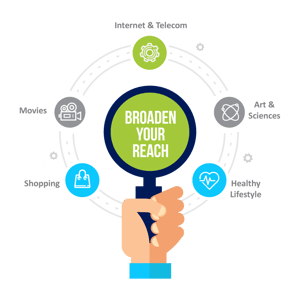 While AFL campaigns used predominantly AFL and NRL (National Rugby League) Interest segments, targeting users who are avid supporters of the AFL and NRL Club, read AFL magazines and who specifically watch the AFL Grand Finals, fans can be reached in much broader ways. To ensure you're reaching your targeted audience, widen your focus to not only include Sports-specific data, but also different Interest and Lifestyle segments, including Tech Enthusiasts, Movies, Arts & Sciences, Shopping and Healthy Living.



In addition, consider targeting a more general audience who has more interests and hobbies. Brands creating sporting campaigns have purchased a variety of Eyeota's data segments, including Families with Children, High Net Worth Individuals, Business Professionals, Jet Set Urbanites, Metrotechs, among others. This gives you a broad selection of audiences, and allows you to create more targeted and personalized campaigns when you have an improved understanding of your audiences.


To learn more, download our AFL Cheat Sheet, or contact us at datadesk@eyeota.com.