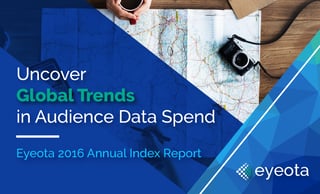 Eyeota Index revealed a 66% year-over-year increase in overall campaigns that have implemented an audience data strategy
Programmatic advertising is on the rise and, with that, a growing need to boost audience planning and targeting strategies. This has never been more evident than in Eyeota's second Annual Index Report, which highlights audience data expenditure across different regions and advertiser sectors in 2016.

Kevin Tan, CEO and Managing Director, Americas, says:
"Audience data is pushing data-driven marketing to new heights, creating opportunities for brands and publishers to better understand their customers. The Eyeota Annual Index Report emphasizes the importance of utilizing audience data to improve ad and content relevancy and drive engagement. By highlighting trends across different verticals and regions, the Index delivers exclusive insights to help refine audience targeting strategies."

According to the Eyeota 2016 Annual Index Report, audience data demand and usage increased significantly worldwide, underscoring the commitment brands have to improving their campaign efforts. We've seen fantastic growth across all regions, with some pleasantly surprising emerging players in the market. As the demand for audience data grows to improve ad and content personalization, publishers are given a major opportunity to monetize their audiences broadly.


With more than 3.5 billion unique profiles across APAC, EMEA and the Americas, Eyeota is the global leader in audience data. The Eyeota Annual Index Report provides a much-needed glimpse into how advertisers, marketers and media buyers are using data and which audience segments work well for specific advertiser sectors. Publishers and data suppliers gain further insights into the most sought-after data segments and the types of advertisers purchasing them.
What's New in 2016?
Global highlights include:
Finance, Electronics & Computers and Retail sectors spent the most on audience data
Audience data spend for video campaigns doubled in 2016, with the most purchases in the U.S., the UK and Australia
Mobile campaign spend jumped 2.6x as Retail and Internet & Telecom brands increased their demand for Demographic, Location-based and Ethnic Group data segments
Certain segment themes, such as Household & Parenting, Sports & Fitness, Media & Entertainment, Finance, Travel & Leisure and Electronics & Computers, were popular across all markets and advertiser sectors
Demographic segments had the most demand, with a growing appeal for Inferred, Look-alike segments, with B2B data demand following closely

U.S. highlights include:
Highest demand for B2B data segments compared to other markets, contributing 40 percent of the total demand globally for these segments
CPG/FMCG, Government Organizations & Nonprofits and Retail brands were biggest Demographic data spenders, preferring Lifestyle and Ethnic Group segments
Electronics & Computers, Services & Industries and Finance were the biggest spenders for B2B segments, targeting niche segments such as Seniority, Company Size, B2B Financial Service and B2B Interest
Seasonal segments remain popular among CPG/FMCG and Retail brands, especially for Valentine's Day, Easter and Christmas
Europe highlights include:
Audience data demand surged 34% YoY in Europe, while campaigns using audience data have doubled
Electronics & Computers audience data spend almost tripled during end-of-year sales, compared to the average quarterly spend in Europe
The region saw a 12% increase in audience data spend for video campaigns
Germany saw a significant lift in audience data spend (49%), driven by Commercial Auto and Retail Brands creating more targeted campaigns
Electronics & Computers had the highest growth rates in The Netherlands and Italy, which saw a 3x YoY and 2x YoY growth overall, respectively
Oceania highlights include:
Australia's expenditure was up 48% compared to the previous year
Australia saw a 23% jump in campaigns using audience data
Internet & Telecom had the strongest growth in the region at 2x YoY, as brands promoted a variety of mobile apps and telecom services targeting Location-based users and Business Professionals
New Zealand experienced a 40% YoY growth in spend

Asia highlights include:
Singapore accounted for 62% of Southeast Asia's audience data demand
Japan had the strongest growth in Asia at 4x YoY
Japan, Thailand and Malaysia showed strong market maturation with 68% of audience data managed locally, up from 26% in 2015
Automotive and CPG/FMCG sectors quadrupled and tripled, respectively, audience data spend in 2016
B2B and Sociodemographic segments continued to be in high demand
Looking Ahead

Globally, certain advertiser sectors, data segments and regions will stand apart from the rest. CPG/FMCG, Retail, Electronics & Computers and Finance will drive audience data demand growth in 2017, with B2B, Sociodemographic Profiles, Interest and Intent segments high on the list. In addition, Germany, France, The Netherlands, Italy, Japan and Latin America will grow in audience data usage.


Millennials will also grow as a targeted demographic, while Parents and Families will continue to be in high demand. Enterprise decision makers and IT professionals will continue to capture significant Electronics & Computers B2B demand. Brand Affinity and Product Ownership segments will continue to carve out more budget. Inferred, modeled Demographic segments will continue to gain traction. Generally, targeting strategy of mixing broad reach segments with niche highly specific segments will increase in popularity.


Demand for audience data on mobile and video will continue to rise as consumers increasingly turn to their mobile devices to consume media and video content; particularly, demand will grow among Automotive and Retail brands targeting these users.


The Eyeota 2016 Annual Index Report provides deep audience data trends that empower brands to connect and engage with audiences on a personal level, while providing publishers with insights into the popularity of certain data segments and the types of brands that purchase them. By understanding how different advertiser sectors use data and which segments are successfully, brands can improve outreach strategies, enhance customer engagement and drive results.


Methodology
Eyeota's 2016 Annual Index Report includes internal data reflecting the audience data expenditure of over 2,400 brands for more than 11,000 campaigns in 60+ countries. Actual advertisers are kept anonymous but categorized into 12 advertiser sectors. Eyeota's proprietary Sector Spend Index and Price Index track how much brands are investing in audience data, expenditure growth and preference for different types of audience profiles.