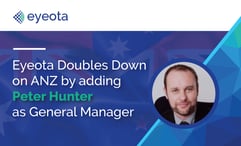 Advertising industry veteran Peter Hunter has joined Eyeota, the global leader in audience data, as General Manager, ANZ.
Peter leads Eyeota's business in the ANZ market and the expansion of the demand and supply side teams. He brings more than 20 years of experience across agency and sales within creative, media and technology verticals. He will report directly to Andrew Tu, Managing Director, APAC.
On joining Eyeota, Peter commented:
"Having experience in both agency and sales has afforded me the chance to be at the forefront of our industry, first in fully addressable media and now in the complex nature of audience data – a critical piece at the center of advertising campaigns. Moving to Eyeota, an established company with strong roots in audience data, gives me the opportunity to play a key role in driving change and data innovation in the industry in what will be a pivotal time in marketing."
Most recently, Peter was the Commercial Director at Quantcast ANZ where he led the rapid development of the commercial team over 18 months to establish them as one of the key new players in the data-driven advertising partners in region. In addition to his ad tech experience, Peter was an established regional leader in the advertising and performance marketing industry where, in 1999, he founded his first agency which he subsequently sold to TBWA in NZ, was CEO of iProspect for APAC, and just before Quantcast, held a series of leadership roles within PHD with his last role as National Head of Business Planning.
Andrew added:
"With programmatic moving towards being 'mainstream' in the ANZ region, Peter's extensive knowledge and experience partnering with the largest brands and agencies will be critical in helping everyone navigate audience targeting and how best to maximize its impact on their business and commercial goals."

Established in 2010, Eyeota launched in Australia, Asia and Europe. Australia is the most sophisticated country within Asia-Pacific with respect to understanding and utilizing programmatic solutions for its advertising campaigns. Industry reports showed that two-thirds of the country's digital advertising inventory across all devices were bought programmatically in 2016. Further, the Eyeota 2016 Annual Index Report showed that Australia experienced a 23% year-on-year increase in programmatic campaigns using audience data.
Passionate about producing excellent work with a global team?