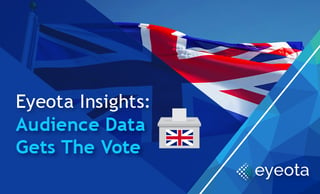 With the UK general election coming up on June 8, political advertisers and marketers have the opportunity to influence voters. Digital advertising plays a major role in political elections, amplifying awareness and exposure of the candidates and their political issues.
And it does not seem like digital advertising for the sector is slowing down. In 2008, President Barack Obama spent 10% ($8 million), a small fraction, of his paid media budget on digital advertising on his election campaign. In 2012, his digital ad budget rose to 15% for his reelection campaign. Fast forward to 2016 and local, state and national campaigns spent a total of $1.415 billion on online advertising. Political advertising for the 2015 UK general election alone reached $47.8 million (GDP37.3 million), with nearly a third of it going to advertising on social media networks, primarily Facebook.
In addition, budgets are directed to more than just national elections. For instance, in 2015-2016, the Australian federal government spent $40.7 million (AU$57.4 million) on digital advertising, just behind TV, with a focus on campaigns for its innovation lab, the federal election and Defence Force recruitment.
Eyeota's data insights also show that Global Nonprofits and Government Organizations have been increasing their investment in audience data for their programmatic campaigns, although national elections receive the bulk of the interest. In 2016, insights from Eyeota's data showed a 110% rise compared to 2015. Audience data expenditure in this sector rose 96% in the UK, 104% in Australia and 161% in the U.S., especially as AU and U.S. elections drew closer. In fact, demand for audience data peaked right before and during Election Day, as political advertisers hoped to make a larger impact on voters.

(Source: Impressions, Eyeota 2015 - 2016)

Targeting Voters


As marketing strategies get ironed out for the upcoming UK general election, let's look at how political advertisers targeted their constituents. General political campaigns usually rely heavily on sociodemographic profiles (inclusive of location, family life stage, income level, lifestyle), professional groups (such as Education, Nonprofits, Law, Blue collar, White Collar), and social grades to segment their focus groups with tailored messages. Social Grades are the UK's demographic classification system based on the occupations of heads of households, which includes a range of job positions from managerial, professional and administrative levels to manual workers, among others.
For the UK general election campaigns in 2015, advertisers primarily focused on specific segments targeting a niche group of voters, including University Students, Small Business Professionals, Wealthy Families, Anti-Materialists, Social Grade ABC (those with occupations ranging from higher managerial to skilled manual workers) and Moderate Savings Retirees/Pensioners. Meanwhile, during the 2016 AU Election, Australian political groups favored audiences that showed interest in politics, business and success as well as voters that were Mothers, Middle Class Families, Millennials and Job Seekers.
While Sociodemographic Profiles were a common way to segment the populations into groups across different regions, advertising groups focused heavily on reaching out to audiences with Political Interest in the AU and U.S. elections.


(Source: Eyeota 2015 - 2016)
Audience data expenditure for the U.S. election rose in Q3 2016 and continued to grow each month as election night approached. Political campaigns were the 4th highest spenders in the U.S. (Q4 2016). Audiences targeted predominantly based on Education Level, Ethnic Groups and Political Attitudes.


UK Voter Profiles


On June 8, millions of UK voters are planning to come out to the polls to make sure their voices are heard. From millennials to families with children, political advertisers need to understand their audiences before running their campaigns. The most important factors that accounted for voting behavior statistically were Education, Age and Ethnicity.
As the biggest group of voters, millennials continue to play a major role in moving the need. A few of their biggest political issues include education, healthcare and the economy. This group includes university students, young professionals and young families with kids. Millennials are internet creatures, supporting their causes online. They also use their social networks to post about issues they care about, posting at least once a week. Further, social media platforms are their primary source of news.
Social Grades also matter when it comes to heading to the polls. Wealthier and more educated, especially those with degree-level or equivalent education, citizens are more likely vote. These include a variety of positions, including higher or intermediate managerial, administrative, professional, or skilled manual occupations
Brexit voters and loyal Party voters polarized along consistent geographical lines. Rural voters tend to have higher turnouts than urban voters. Further, districts with high student populations or ethnic diversity/immigrant populations tend to be crucial battlegrounds. Older voters and non-working class voters have higher voter turnout.
Political audience profiles are quite valuable for both advertisers and publishers alike. The benefits are obvious for political advertisers and marketers—the more you know about your constituents, the better you can plan and target your campaign. From a publisher's perspective, the type of data that advertisers are looking for is also important. Publishers who have specific voter data can help political parties target the right demographics, while making the most out of their data—and realizing a return from an otherwise neglected revenue source.
To learn more about available segments contact us at datadesk@eyeota.com.