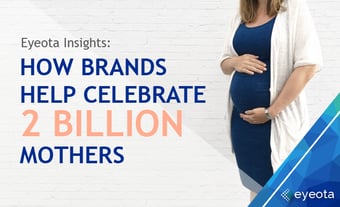 Mother's Day,
an annual
event to honor
motherhood and celebrate
the mothers in our lives
,
is the third most important
consumer holiday
in the U.S
. and one of the biggest retail events globally.
With an estimated
two billion mothers
in the world
(85 million in the U.S. alone), the opportunities for marketers are endless.


In 86 countries, including the U.S., Australia, Brazil, Canada, New Zealand, India and South Africa,
Mother's Day is celebrated annually on the 2
nd
Sunday of May.
In many other parts of the world, Mother's Day is observed on different days
(e.g. the UK celebrates Mother's Day in March).
With all that mothers do for their families,
officially
honoring them
once a year
is the least we can do.

Buying the Perfect Gift

In 2016, Americans were estimated to spend $21.4 billion for Mother's Day on a variety of jewelry, special outings (dinner or brunch.) and flowers. Comparatively, Australians are estimated to have spent $1.02 billion (AU$1.35 billion) in 2016, while British consumers spent around $1.79 billion (GBP1.4 billion).


U.S. consumers spent upwards of $4 billion on jewelry and special outings, respectively, while the floral industry benefited from a spend of $2.4 billion. In Australia, eating out for Mother's Day is an increasingly popular way to spoil mothers. Globally, beauty treatments, perfumes, gift cards, wine and chocolates were among the top gifts. Although spend for greeting cards was relatively low, 80% of consumers will purchase them for Mother's Day. It's no wonder - a Mother's Day card was listed as one of the top three gifts, according to moms.

Multinational CPG brands spent the most on audience data segments to target these sentimental, and obligated, consumers with relevant ads and content around Mother's Day. Not to be outdone, Department Stores, Home & Garden, Supermarkets & Convenience Stores, and Apparel brands also had a high demand for audience data to ensure they were reaching these buyers.


According to Google Trends, in the past 5 years, the global online search for "Mother's Day gift" doubled. Mobile searches for "best Mother's Day gifts" were also up 51% YoY. In addition, while most searches begin in April, searches spike a week before the actual day. In Australia, however, much of the gift-buying is left to last minute.

Eyeota's insights also show an increase in audience data demand starting in April and peaking in May. Demand for audience data in May rose 6x more than in April in 2016. But it's more than just knowing when consumers are searching for gifts ideas. It's also understanding who these buyers are and what they're searching for.


Who are Mother's Day Gift Buyers?

Unsurprisingly, women are the dominant gender when it comes to buying gifts for Mother's Day in the U.S.—they spent 18% more than men on gifts. In the UK, although men spent more on average, more women purchased gifts. Which is why it makes sense that Female data segments have the highest demand among brands. Buyers also tend to be between the ages of 18 and 34. Other popular data segments target audiences with kids as well as household decision makers.

Gift buyers also have a wide range of interests, including Family & Relationships, Technology, Parenting, Fashion & Beauty, Food, Entertainment, among others. They have a penchant for gossip and tabloid news, beauty services, Broadway shows & musical theater, Jazz & Blues and cooking.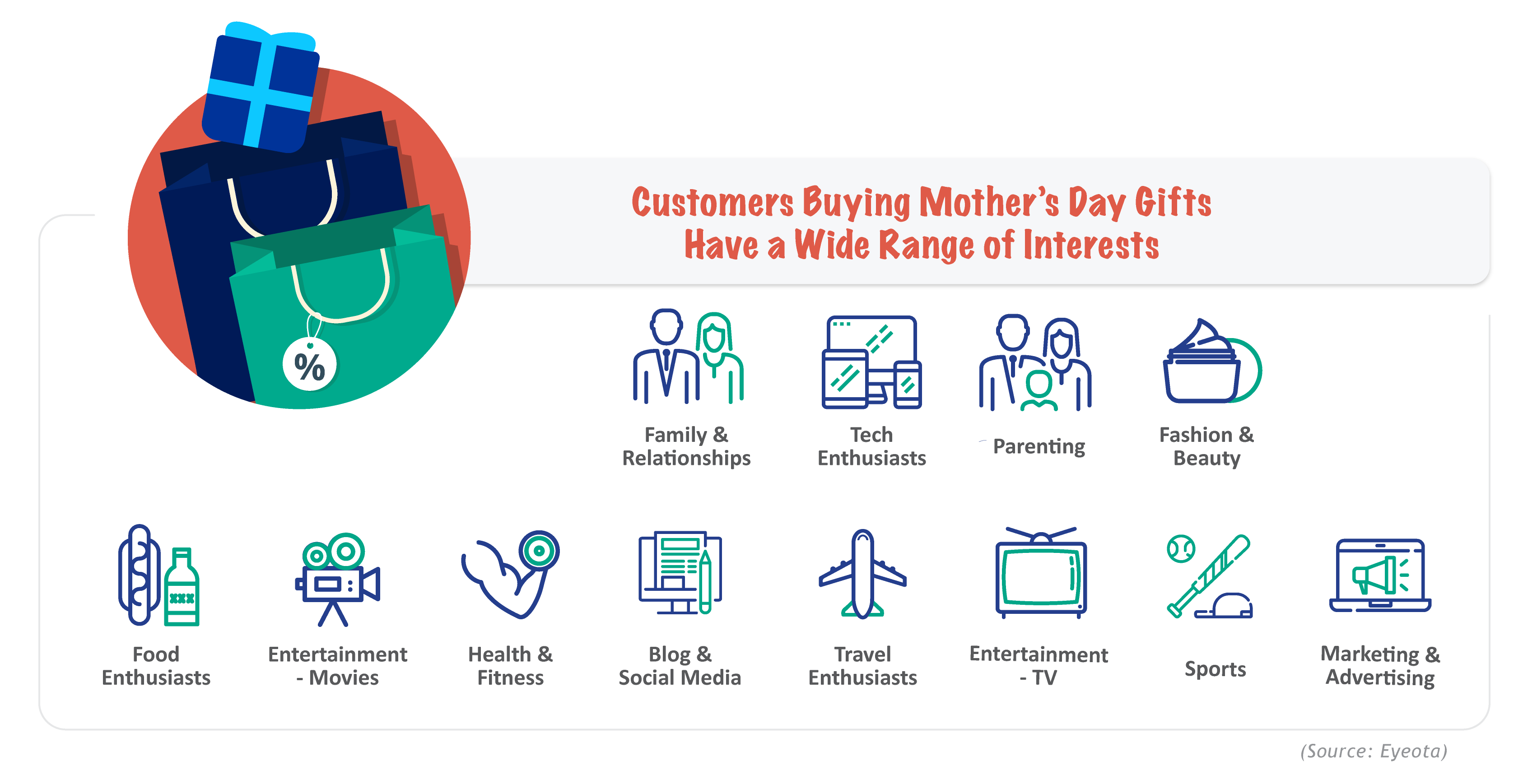 In addition, they're engaged on social media, sharing content on Facebook, Twitter and Pinterest, and actively use mobile devices (smartphones, tablets). With social media, public displays of affection have been taken to the next level. These audiences share a mix of text and images that express their love for their mothers and how they're celebrating the special day. From poetry to family photos, from food to flowers, there's nothing you won't see on social media.

While advertisers and marketers should take note of which segments they should buy to ensure they're targeting the right audiences, publishers can also leverage this information and get in on the action. Understanding which data segments are in-demand for Mother's Day can help publishers determine if they have the audience profiles that brands want.

Contact us at datadesk@eyeota.com for more audience data segment suggestions.