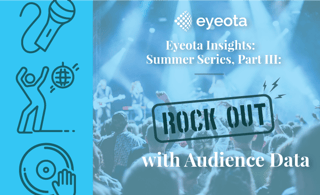 The music festival industry is a multi billion dollar industry, driven by ticket sales, sponsorships, merchandise, and food and drinks sales. From Coachella in the U.S. to Glastonbury in the UK to Splendour in the Grass in Australia, Fuji Rock in Japan to Rock in Rio (de Janeiro), multi-day music festivals are continuing to draw large crowds and, with them, more brands and advertisers.


To reach these engaged and, essentially, captive audiences, brands invest heavily in sponsorship or creating experiential activations inside the festival. IEG estimates that global sponsorship spending, especially by Food & Beverage, Automotive and Internet & Telecom brands, for music tours, festivals and venues will reach an estimated $62.8 billion in 2017.

The U.S. and Europe experience peak music festival season beginning in April/May and end September/October. Australia and New Zealand also have many of their festivals in April/May as well as October through January. Leading up to and during these months, data segments targeting attendees are in high demand. Last year, demand for music festival data segments grew 5.3x from 2015, a direct result of the growing numbers of attendees every year.

Music lovers and general consumers alike are buying up tickets to see the headliners or just be part of the experience. In 2015, Nielsen found that 32 million people attended at least one music festival in the U.S. each year, while UK Music reported that 3.7 million people attended a music festival in the UK alone. And attendance is not simply about being at the venue. Many music festivals, including Coachella, Tomorrowland, ULTRA, Glastonbury and Lollapalooza, offer live streams for fans who are unable to attend.


An experience worth traveling for


Festival-goers are willing to pay a premium to attend, sometimes upwards of a few hundred dollars for just one general admission ticket. What is even more interesting is that music festival attendees are traveling cross country or internationally for them. Over 50% of avid festival-goers surveyed by EventBrite traveled outside of their state or province to attend a festival. With the vast number of fans willing to travel for music festivals, it's no wonder the Travel & Leisure industry had the highest audience data demand in the UK and Australia.

Millennials are the true festival fan

While some Gen Xers still make time to go to music festivals, millennials are the driving force behind attendance. Of the 32 million U.S. festival attendees in 2015, nearly half were millennials. Music festivals represent everything that millennials are passionate about – friends, experiences, food, drinks and music.

Millennials have an eagerness to share everything on social media, a willingness to spend on meaningful experiences and a need to be the first to discover new music and trends. This makes them the ideal demographic. From the anticipation of buying tickets, to attending the event and recapping best moments, millennials enjoy sharing every aspect of their music festival journey online and with friends.


Music festival essentials

With ticket sales for music festivals surging, lodging, transportation, food & beverage, apparel and other music festival necessities are in high demand. Seasoned pros know how to prepare, but newbies are devouring article after article from publishers on what attendees should know and have in their "survival packs." This includes everything from a tent and sleeping bag (if hotel options are unavailable) to toiletries to an emergency kit to a phone charger to clothes (and rain boots for the inevitable muddy times).

With everything that is needed for a music festival, brands have a major opportunity before them as attendees get pumped and prepared. Understanding these festival-goers better will give advertisers an advantage and help them accurately identify and engage with their audiences.

Contact our Audience Specialists at the Eyeota Data Desk to learn how to reach avid music festival attendees.