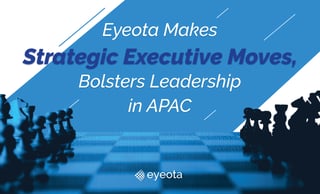 Eyeota has added ad tech pioneer Andrew Tu as Managing Director, Asia-Pacific, succeeding Eyeota Co-founder Trent Lloyd who moves into a global role as the new EVP Global Publisher Strategy and Products.
"As we recalibrate our positioning in the market and I focus more on a global strategy, Andrew was the most logical executive to bring on board," said Trent. "As one of the co-founders of Eyeota and a pioneer in the APAC programmatic world, his regional knowledge, expertise and proven track record is the right fit as we look to accelerate our business in APAC."

In his new role, Andrew oversees the already successful commercial operations in Japan, Australia, Hong Kong, Taiwan, India and Southeast Asia. He works closely with the global team to identify new opportunities for Eyeota in the region that help accelerate company growth and grow the overall audience targeting ecosystem in region.

Andrew has over 25 years in digital media, marketing, programmatic and audience targeting. Over the course of his career, he was usually the 'first man on the ground' and launched the APAC operations for several leading ad tech companies, advertising agencies, and publishers such as MSN, Ogilvy Interactive, OMD, Adify and Astro.

In 2011, he saw the opportunity in programmatic and helped launch Brandscreen into APAC, including China, and was instrumental in starting the programmatic revolution in Asia. In 2013, he joined The Trade Desk and built the APAC business over three years to become one of the largest and most trusted DSPs agencies and their advertisers use in the region, prior to its IPO in 2016.

"Publishers are a critical part of our supply as we continue to elevate Eyeota to the next level," said Kevin Tan, CEO, Eyeota. "Trent has done an excellent job building the Eyeota business. Now it is time to take the next step in our evolution. In this new role, Trent's expertise in publisher data will unify and accelerate our supply strategy and offerings across the globe."

With the addition of Andrew as APAC head and Trent's renewed focus on supply and publishers, Eyeota is perfectly positioned to enable and drive deeper partnerships with the overall audience targeting ecosystem.

Eyeota was established in 2010, and launched in Australia, Asia and Europe. Australia remains one of the most sophisticated countries within Asia-Pacific with respect to understanding and implementing programmatic advertising, with two-thirds of its digital advertising inventory bought programmatically in 2016 and a 23% year-on-year increase in programmatic campaigns using audience data.

Passionate about producing excellent work with a global team?