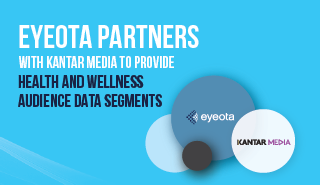 Marketers and advertisers can access holistic insights into consumers' behaviors, attitudes and profiles







Eyeota and Kantar Media, a global leader in media intelligence, have partnered to bring data from Kantar Media's market-leading MARS Consumer Health Study, which covers all aspects of consumer behaviors, attitudes and media usage for their health, to healthcare and pharmaceutical marketers, advertisers, media buyers and agencies across the globe to power their campaigns.
We sit down with Kevin Tan, Eyeota CEO, and Manish Bhatia, North American CEO, Kantar Media, to learn more.


Q: What values does the partnership bring to marketers and advertisers within the healthcare industry?

Kevin: Consumers are conducting more research for health-related information online or on mobile devices. The MARS Consumer Health Study found that 42% of the US population said they initially go online when they need health and wellness information, while 17% of adults who own a smartphone use health and wellness apps.

The integration of MARS Consumer Health Study audience segments provides not only consumers' health and well-being profiles, but also how and where this audience consumes content. Taking this information, healthcare marketers can create more targeted campaigns to reach and engage with their consumers with precision.


Manish: Bringing Kantar Media's high-quality data to the programmatic marketplace offers tremendous value to media buyers. Thanks to our partnership with Eyeota, a broad range of health and wellness brands can now create successful campaigns by leveraging our MARS Consumer Health Study insights.


Q: How has programmatic changed healthcare marketing?

Kevin: Driven by the need to reach consumers on their preferred channels, healthcare marketers have begun to invest more heavily in digital advertising. It has been a slow ramp up for healthcare marketers to adopt programmatic advertising due to healthcare being a very heavily regulated industry as well as lack of education and understanding and misinformation surrounding programmatic.
However, as programmatic becomes more ubiquitous, healthcare marketers are seeing the value that automation and audience targeting brings to data-driven marketing strategies. While U.S. measured-media ad spending for the healthcare industry increased by 11.3% to $9.7 billion in 2015, digital (which includes video, display, online, search and mobile) accounted for 12.6% ($1.2 billion), according to the study.


Manish: Audience engagement is the holy grail for marketers. But a big part of that is knowing your audience, what they like, how you should be reaching them and what types of content or ads you should be sharing. Our health and wellness segments provide detailed information on consumer behaviors and attitudes that marketers can leverage for their campaigns to improve engagement.


Q: What is the MARS Consumer Health Study?

Manish: The MARS Consumer Health Study is Kantar Media's annual survey of 20,000+ adults across the U.S. capturing key healthcare data. Since 2001, Kantar Media's MARS Consumer Health Study has been the go-to information source for marketers serving all aspects of health and wellness, direct-to-consumer advertising strategy, planning, and targeting. The study provides a wealth of data around multimedia consumption habits, ailment conditions, treatment plans, 500+ drug brands, attitudes & opinions, demographics and more.

The MARS Consumer Health Study delivers deep insights on the behaviors of adult consumers as they relate to healthcare information, pharma and media. The study helps healthcare marketers, agencies and media companies understand patient groups and develop meaningful profiles of consumers that inform and guide their media, marketing, messaging and creative decisions.

Kantar Media's MARS study is reviewed annually by the Media Ratings Council and was recently featured in Advertising Age's 2016 Healthcare Marketing special report.


Q: What types of segments are available, and where can you find them?

Kevin: MARS Consumer Health Study segments enable marketers to approach consumers based on their affinities and attitudes toward multiple health and wellness segments, including fitness, nutrition, media usage, wearables and mobile healthcare apps, online research, advertising responses, branded or generic prescription drugs and more.

The MARS Consumer Health Study audience segments are available through Eyeota Audience Data Marketplace.

Contact us at datadesk@eyeota.com to learn more about these segments.