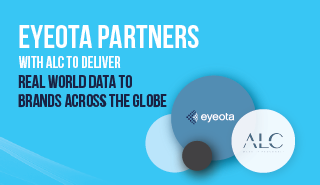 Eyeota and ALC, the industry's leading privately-held direct and digital data marketing services provider, have teamed up to bring ALC Digital Audiences to more marketers and advertisers worldwide through Eyeota's global data marketplace.

Combining B2B and B2C data, brands looking to target U.S. consumers can create profiles based on millions of business, lifestyle and interest characteristics to provide a truly unique online experience for customers. ALC Digital Audiences are based on Real World Data—fact-based, location-centered data that is linked to individual attributes, not modeled or inferred, to allow for exact targeting. The data is vetted and verified to ensure that marketers and advertisers are reaching the right customers.


"In the world of marketing, data is the new currency. Brands that are able to analyze, interpret and use that data to drive marketing strategy will ultimately be successful in acquiring and retaining customers," said John Whitmore, VP of Digital Audience Solutions at ALC. "Eyeota has built its reputation on providing the superior data for brands to reach their target audiences and drive results on a global scale. We're excited to partner with Eyeota to expand the scope of our data offerings internationally."


ALC segments available through Eyeota's data marketplace include:
ALC Auto+™ - leverages proprietary sources and known ownership records to deliver the most current and accurate vehicle data
ALC B2B™ - tracks the dynamic business marketplace to help B2B marketers reach key decision makers
ALC MD+™ - provides full coverage of healthcare providers to allow marketers to connect with key executives and practitioners
Newborn Network™ - delivers data on brand new parents to help marketers target and provide solutions for their needs
Political Precision™ - provides the most comprehensive and current voter data available
Wealth Window™ - offers a premier database of the most affluent individuals in the U.S.

"For decades, ALC has provided innovative and proven solutions to solve marketing's biggest challenges," said Kevin Tan, CEO and Co-Founder, Eyeota. "Utilized across multiple verticals within the U.S., ALC is a known and trusted source for quality data. We're thrilled to help broaden their reach and bring their data to more brands globally."


ALC's unique data segments are based on nearly 40 years of experience sourcing data and creating audiences through its innovative approach to data aggregation. ALC Digital Audiences are fueled by dozens of high-quality niche sources—many of which are not found elsewhere in either offline or online repositories.


ALC includes exclusive data from LexisNexis, professional memberships and trade associations, transactional data, public record information and other proprietary data sources to ensure improved accuracy and scale.


For more information on our segments, contact our Audience Specialists at datadesk@eyeota.com.