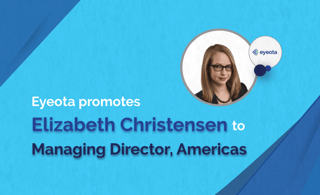 Eyeota has announced the promotion of Elizabeth Christensen to Managing Director, Americas, underscoring the company's rapid growth in the U.S. market.

In her new position, Elizabeth will focus heavily on executing go to market strategies for new products, driving revenue growth, and developing agency and partner relationships across the region. She will continue to report to Kevin Tan, CEO, and oversee U.S. operations, leading the data, platform, agency and publisher acquisition teams.
"With Elizabeth's wealth of experience, we are excited to have her take on an expanded role running our U.S.-based business," said Kevin. "Her proven leadership skills and track record of success are assets to Eyeota as we progress onto the next chapter of our story."
Having joined Eyeota only seven months ago, Elizabeth accelerated the growth of the U.S. team and helped to amplify Eyeota's presence with U.S. data partners, agencies and brands. She also spearheaded the launch of the Eyeota Data Desk, a global resource that connects brands, agencies and media buyers with Eyeota's Audience Specialists to help them identify and build the best audience plan for their campaigns.
"I am incredibly proud of what we've accomplished in a short amount of time - we've launched 25 new partners, seen 45% growth in buyer seats of data over the last six months and have over 6,000 active campaigns per month," said Elizabeth. "Our clients have been receptive to Eyeota's offering of quality, unique and scalable data sets and the publishers and partners have been eager to join our network and be a part of our success. I am excited to enhance our product with new data assets and take our story to new markets."
Elizabeth has more than a decade of experience in programmatic, content publishing, advertising, product development and business develop across a range of verticals. She has built departments from the ground up, led client and partner engagement strategies, developed scalable products and implemented smart solutions to help companies drive bottom line results.
Prior to Eyeota, Elizabeth was VP of Global Business Operations at Xaxis. Previously, Elizabeth held positions at Sterling Publishing, and creative agencies including JWT, Team One Advertising and TBWA/Chiat/Day.
Interested in working with a global team?