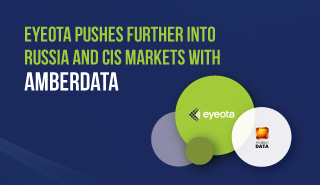 New data segments offer a detailed view of Eastern European consumers' interests and preferences

Eyeota and AmberDATA have formed a partnership to integrate over 400 regional data segments collected from more than 200 million users into the Eyeota Audience Data Marketplace.

The addition of AmberDATA's unique segments allows advertisers, marketers, media buyers and agencies targeting consumers in Russia and CIS markets to access a detailed view of their audiences. With an accurate picture of their customers, advertisers can create more valuable and relevant campaigns to help them engage with the right audiences.

Commenting on the partnership, Evgeny Krasnov, Head of Data Analytics, AmberDATA, said,
"Known for its quality, reach and depth, Eyeota is a market leader for global audience data. With our partnership, we are providing brands around the globe with unique insights that tell the story of local consumers and their online habits, helping brands target them more accurately and efficiently. We are thrilled to have the opportunity to work together. "
As one of the largest data management platforms in the Russian market, AmberDATA aggregates local data from various sources, capturing online sociodemographic, behavioral, intent and interest information. Advertisers can target specific segments currently available or create custom segments based on their own criteria.

Advertisers and media buyers can select from a wide range of segments, including Automotive, Business, Education, Careers, Fashion and Beauty, Health, Sports, Vacations and Traveling, and much more. AmberDATA works with SSPs and third-party data providers to collect non-personally identifiable information. The data is consistently updated to provide the latest insights on audience behaviors and preferences.


Last year saw a strong recovery in the Russian advertising market, with a 24% increase over 2015 in internet advertising spend. In addition, digital ad spending in Russia is estimated to reach $2 billion USD by 2020. Driven by market demands and a critical need to improve audience targeting and engagement, programmatic advertising has grown across Russia.

Kevin Tan, CEO, Eyeota, says:
"This is an exciting partnership for us as we look to increase our presence in new markets. Russia's digital advertising and programmatic sectors are set to grow exponentially as more audiences turn to online and mobile devices to consume content and shop. We are excited to work with AmberDATA to deepen our roots in the region."

For more information on which AmberDATA segments are available, contact us at datadesk@eyeota.com.