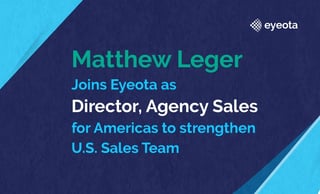 Expanding its U.S. sales team, Eyeota has added Matthew Leger as its newest Director of Agency Sales, Americas. Matthew is responsible for developing strategic relationships with some of the major holding companies in the region. He will report directly to Elizabeth Christensen, Managing Director, Americas.
"With more than 15 years of experience working on data-driven media and unique data sets, I'm eager to join the Eyeota team to help drive the company's success in the region," said Matthew. "Combining my passion for helping clients meet their marketing and sales goals and Eyeota's global data and insights, I am excited to help evangelize those products."

Previously, Matthew was Senior Sales Executive at Samsung Ads, the advertising monetization arm of Samsung Electronics, where he was responsible for CTV and cross device media sales. Prior to Samsung, Matthew was at Yahoo! Advertising Platforms, where he developed go-to market plans and marketing solutions for key clients nationally. He was instrumental in the launch of Yahoo Gemini, its marketplace for native and search ads, and Yahoo Ad Manager Plus.

"Matthew's extensive background in data and sales will help to strengthen our foothold in the U.S. market," said Elizabeth. "The demand for audience data will continue to grow as programmatic surges to new heights across the region. Matthew's proven track record in developing key relationships and achieving business results will be an asset to Eyeota. We are excited to have him join the team."

Matthew also held roles at Comcast, where he was responsible for east coast sales and business development of Comcast Media360 Advanced Advertising Suite; Rentrak, where he led network, agency and client direct sales for the launch of its Television Essentials set top box linear TV measurement service; and NCC Media, where he created and deployed strategic initiatives to expand NCC's category and account base. He received a BS in Business Communications from Northeastern University.
Passionate about producing excellent work with a global team?