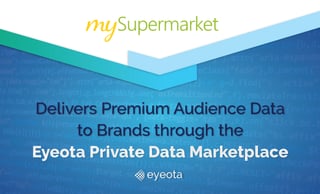 mySupermarket is making its premium purchase intent data segments available through a Private Data Marketplace (PDMP) with Eyeota, the global leader in audience data, to meet the growing needs of advertisers and media buyers.
mySupermarket has 2.5+ million unique visitors a month across the United Kingdom from customers who use the site to research products and prices before making their purchases online or in-store. Through its active user base, mySupermarket has an extensive data set of users who display distinct and true purchase intent within a grocery environment.

Available segment types on through mySupermarket's PDMP include specific supermarket, brand and product category preferences. In addition, Eyeota and mySupermarket can create bespoke audience segments for media buyers and advertisers who need much more targeted segments.

"We have a very unique audience—there are limited or no other audiences available that brands can use for actual, in-market grocery shoppers," said James Reynolds, Senior Business Development Director, mySupermarket. "As an established company, Eyeota has deep relationships in the industries, either directly with brands or through media agencies. By offering our data through a PDMP, we are able to extend the reach and availability of high demand segments and connect with buyers in a controlled and secure data environment."

Eyeota's Private Data Marketplace connects premium offline and online publishers and data providers to advertisers and media buyers to buy and sell data faster and more seamlessly. The Eyeota PDMP provides publishers and data providers with greater control, flexibility and transparency of their data, from where it is being distributed to who is purchasing the data.

Eyeota's PDMP helps partners manage, activate and monetize their audiences across a variety of platforms. Media buyers and advertisers can access the data on the PDMP through various DSPs and DMPs (platforms based on a buyer's request).

"Publishers want to take control of their data and know where it is going. By offering the data on the PDMP, we are creating a direct relationship between mySupermarket and a specific brand and enabling a much more transparent data transaction," said Kevin Tan, CEO, Eyeota. "The mySupermarket PDMP offers premium, quality data that enables advertisers to enhance or influence the performance of their campaigns, while understanding how it is being used. Through the PDMP, we are delivering a trusted and reliable source of high quality data to brands."

Operating since 2006, mySupermarket provides a consumer-facing site that helps shoppers make smart decisions about their grocery shopping by being able to compare prices across 16 retailers simultaneously and other features to help optimize their basket, online or in-store.

In addition, mySupermarket helps CPG/FMCG brands and grocery retailers thrive in a multi-channel world by leveraging e-business data to deliver insight, analysis and optimization to uncover opportunities quickly, fix problems faster and drive online growth.
For more information, contact the Eyeota Data Desk