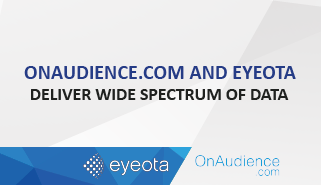 Eyeota has teamed up with OnAudience.com, a provider of integrated data management services and products, to offer a broader spectrum of audience data to advertisers, marketers and agencies to improve campaign engagement across Europe and North America.
The partnership will make OnAudience.com's extensive database of three billion high-quality user profiles available through the Eyeota Data Marketplace. With one of the largest third-party data sets that span over 40 markets, OnAudience.com's over 500 pre-defined segments provide thousands of attributes covering general interests, purchase intentions, geolocalization, demographics and more.


Maciek Sawa, Chief Commercial Officer, OnAudience.com says:

"Our data segments have been built from a variety of resources to provide a comprehensive database of user profiles that help brands understand who they're targeting and how they can improve their outreach strategies. By working with Eyeota, we're providing a much more granular view of audiences that will allow brands to better understand customers and their preferences."


OnAudience.com's data is anonymized and aggregated from a mix of providers including online publishers, networks and technology partners. Segments available through Eyeota's marketplace include a mix of B2B and B2C Intent, Interest and Demographic data targeting Business Services, Family, Healthcare, Home & Garden, Art, Politics, News & Current Events, Finance, Social, Science, among others.


Kevin Tan, CEO, Eyeota commented:


"One of the main challenges in customer engagement is reaching the right audiences with the right content. With a robust set of user profiles, our partnership with OnAudience.com will help brands create effective campaigns to target, reach and connect with consumers and businesses alike."


OnAudience.com is part of Cloud Technologies group, the online advertising leader in the segment of big data cloud computing. The company has unique competencies in optimizing advertising campaigns based on programmatic buying.


For more information on our segments, contact our Audience Specialists at datadesk@eyeota.com.