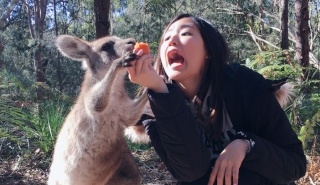 Behind every great company is a great team. Eyeota is powered by a group of exceptional and talented individuals from all around the world, and being a part of Eyeota means empowering people with potential.
Although they work behind the scenes, our interns are essential to making our teams run effectively. Now these interns are full-time employees at Eyeota. In our upcoming People series, we'll highlight our youngest employees to see what life as an Eyeotian intern was like and how future interns can leave an impact.
Meet Verriona, the leader of the pack and graphic design guru. She transitioned from intern to full-time more than two years ago. Currently studying in Sydney, she still works part-time and continues to lend her creativity and design expertise to our digital marketing collateral.


Favorite (future) travel destination(s)
I'm currently furthering my studies in Sydney, so before I complete my studies and leave Sydney for good I would like to travel all over Australia. My next stop would be Tasmania - one of the best places in the world to view the stunning aurora!
Interesting hobby or hidden talent
Can my high tolerance for spice count as a hidden talent? I absolutely love chili so feel free to challenge me on a spicy chili challenge!


Favorite part of being an Eyeotian
The fun culture and how everyone in the company values one another. Never once have I ever felt unappreciated!


What did you learn at Eyeota and what do you enjoy the most about working here?
I never actually felt like an intern or someone insignificant. Forget the coffee runs, printing paperwork or running errands. At Eyeota, everyone on the team welcomed me with warm smiles and encouraging advice. I was given a variety of projects and assignments, which allowed my work to directly contribute to the company. I picked up new skills and got exposed to different areas of design and how a business is run. I can't thank the company enough for giving me this incredible opportunity to learn from people who have so much talent and expertise in what they do.


What advice would you give interns looking to make the switch to full-time?
Be more confident and forthcoming. If I started again, I would be more confident in my work. Making a switch from intern to full-time ended up being the best choice that's led me to where I am right now, and it's fun looking back. It's been a great journey with lots more to look forward to.
Passionate about producing excellent work with a global team?