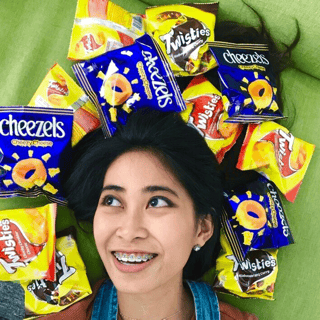 Say hello to Feryna, our Junior Graphic Designer. Starting as a fresh-faced intern, she is now our creative machine, churning out great designs at full-speed. Always exuberant, she is based in our Singapore office and supports the design needs of global teams.
Favorite (future) travel destination(s)
Amsterdam! I'd really love to visit their museums, especially the Van Gogh Museum. I'd also love to experience staying in a boat house and indulge myself in their sunflower maze.


Interesting hobby or hidden talent
Everyone in the Singapore office knows about my bottomless tummy and its ability to consume extremely large amounts of rice.


Favorite part of being an Eyeotian
I love interacting and working with colleagues from different teams… and also the 4Fingers Crispy Chicken wings we have every Social Friday!
What did you learn at Eyeota?
As cliched as it may sound, communication is key. If you're unsure about something, don't be afraid to speak up and ask questions.


What do you enjoy the most about working here?
I'm thankful for the exposure that the company has given me. I don't just work within my design team - I'm also involved with other departments and have the chance to work with different teams.


What advice would you give interns looking to make the switch to full-time?
Always set goals for yourself, pushing a little out of your comfort zone. Try things that you have never done anywhere else. Never be comfortable with the tasks given to you - you'd want to get the most out of your internship experience. Things you never thought possible can actually be achieved!

Passionate about producing excellent work with a global team?