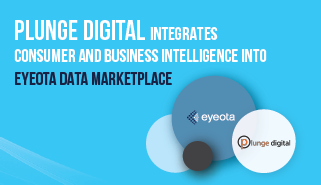 Responding to the growing need for quality data in various verticals, Eyeota has partnered
with Plunge Digital to provide marketers, advertisers, agencies and media buyers with a database of B2B, B2C, automotive and self-reported ailment data segments.

Brands are constantly looking for ways to improve customer experiences. By investing in tools and resources that provide a better sense of who audiences are, their interests, purchase behaviors and preferences, these brands can get an advantage over their competitors.


Integrated into Eyeota's vast data marketplace, local, regional and global brands now have access to Plunge Digital's U.S. audience data to help them precisely target the right customers.
Segments include:
PlungeRides – Automotive data sets verified by Kelley Blue Book, the vehicle valuation and information source trusted and relied upon by both consumers and the automotive industry
PlungeRx – Ailment database that consists of consumers with a variety of different health treatment interests
PlungePeople – Online consumer database of 244 million individuals representing 120 million households, and including a variety of characteristics such as geo-demographic, lifestyle, life-stage, among others
PlungePro™ – More than 20 million targetable B2B data sets that help to identify, compile and verify businesses and leading firmographics
"We continue to see gaps in the digital value delivery chain, with some third-party data not having been well-sourced or truly vetted," said Charlie Dill, EVP, Plunge Digital. "This creates a problem not only for monetizing digital assets, but for ensuring that brands are using trusted data sets. Eyeota is known for its compliance with numerous privacy and quality associations across the globe, including the Digital Advertising Alliance, the Network Advertising Initiative and The Media Trust. Our integration ensures that we are held to the highest standards to offer reliable data and help clients achieve greater ROI by increasing engagements and conversions.


Plunge Digital's data-driven solutions are built by proprietary sourcing from public domain, cooperative databases and self-reported inputs. The company compiles multiple data feeds at the primary source as well as to specific value added aggregations to create a unified, proprietary view of each consumer and/or business profile. To ensure accuracy and quality of the data being sourced, Plunge Digital performs data evaluations with every new source, in addition to its independent audits conducted per annum.


"Transparency and accountability are key in data collection, and Plunge Digital is very open in how its data is aggregated and how its profiles are built," said Kevin Tan, CEO and Co-Founder, Eyeota. "Through our partnership, we're confident that brands are receiving trusted and actionable data to help drive success of their campaigns and boost the bottom line."


Plunge Digital is an information services company with 'Best in Class' primary and aggregated sources of both consumer and business intelligence. Built on taking and vetting the best offline data assets with online information, Plunge Digital provides quality, breadth and depth its clients expect in a higher level of audience segmentation.


For more information on our segments, contact our Audience Specialists at datadesk@eyeota.com.