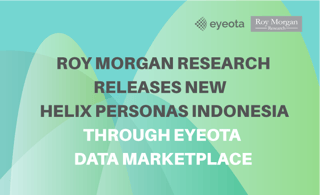 In an increasingly fragmented, data-driven media landscape, Eyeota, the global leader in audience data, and Roy Morgan Research, a recognized leader in market research and data innovation have partnered to make Helix Personas Indonesia available in the digital, programmatic trading marketplace.

Helix Personas takes big data that's often vast but shallow and humanizes it, drawing on psychographic and behavioral data from Roy Morgan's extensive Single Source Survey to classify the Indonesian population into 42 personas and six communities to create 'deep data'.

The tool allows media agencies to unlock profound insights into their clients' target audience by translating contact databases into easily understood and actionable personas. Using these insights media agencies can optimize media plans and creative to reach target audiences most effectively, with messages that resonate on a cultural and emotional level.

Brand owners can use Helix Personas to understand exactly who and where their customers are, including key values, purchasing behaviors, demographics and media habits. They can reduce marketing spend by knowing exactly where to advertise, and grow their businesses with strategically placed store locations, stocked with the most relevant products for their customers.

The partnership between Roy Morgan Research and Eyeota enables Indonesian advertisers to reach their target audiences in the digital landscape in real time, using sophisticated programmatic media activation.

Commenting on the partnership, Howard Seccombe, Chief Digital at Roy Morgan Research, said:
"Roy Morgan has been measuring all aspects of Indonesian life for over 12 years of a quarter of a million interviews, so we understand that it is a fast growing, diverse and mobile first market. Having worked with Eyeota to allow advertisers in Australia and New Zealand to reach their target personas through the Eyeota marketplace, we've seen firsthand the success achieved when local audience data is leveraged within marketing strategies. Indonesian advertisers will benefit greatly from the insights provided by Helix Personas, so we're excited to be working with Eyeota to activate the tool in this important market."

Kevin Tan, CEO, Eyeota, added:
"Roy Morgan's Helix Personas are well-trusted by brands in APAC in helping them identify, target and reach the right customers with the optimum message. The new availability of Helix Personas Indonesia will create a much more efficient way for brands to engage with local consumers with relevant ads and content. We are thrilled to be their first activation partner in the local Indonesian market."

For more information on available data segments, visit the Eyeota Data Desk.