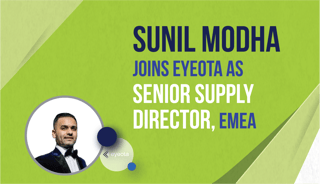 Eyeota has announced the addition of Sunil Modha as its new Senior Supply Director of EMEA, based in London.



Reporting to Aaron Jackson, Managing Director, EMEA, Modha is responsible for increasing Eyeota's online data partnerships, along with driving subscription revenue from publisher partners through its DMP relationships.

Aaron commented,
"Modha has a strong background in data and great experience in the wider ad tech space. His addition to the team is yet another string to Eyeota's bow as we ramp up our efforts in the UK and other EU markets. He will be a great asset and complement the fantastic existing team very well."

Modha has broad knowledge of the international and UK publisher landscape, having worked on the supply side for many years. Previously, he was Senior Account Manager at AudienceScience, where he managed the P&G account across several European markets and led its programmatic initiatives. He held various roles at AudienceScience, and was responsible for developing and implementing data-driven display advertising products for global premium publishers.


Modha commented,
"Data is such a huge part of the market. It's in high-demand and underpins the whole ecosystem; yet, many companies are simply sitting on their data, or don't know what to do with it or how valuable it is to them and the wider open market. With over three billion unique profiles and deep coverage across multiple European markets, Eyeota is in a great position to deliver results-oriented strategies and actionable steps that help companies drive revenue. I could not have joined a better company."

Modha received a bachelor's degree in International Business from University of Hertfordshire.