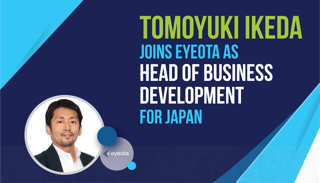 Eyeota, the global leader for audience data, has announced the addition of Tomoyuki (Tommy) Ikeda as its new Head of Business Development for Japan. Reporting to Trent Lloyd, Co-founder and Managing Director, APAC, Tommy will drive sales and business development and further expand Eyeota's footprint in Japan.


As media buying in Japan evolves, the country's programmatic market remains on track for rapid growth. IDC estimated that real-time bidding spend in Japan will reach $1.1 billion in 2016, up from $10 million in 2013.

Trent commented,
"Although programmatic is still young in Japan, adoption has been swift. This creates a major opportunity for us to bring our global audience data to the region. Tommy's in-depth knowledge of the market landscape and his ability to drive new business uniquely positions him to help us broaden our reach in Japan. We are excited to have him join the Eyeota team."

Tommy has extensive experience and knowledge of programmatic, DMP/DSPs and exchanges/SSPs, both on the supply and demand sides. He has experience in business development, publisher acquisition, account management, and as a Japan Country Manager.

Tommy commented,
"Japan is a big market and has huge potential to grow, and data is a key component for that growth. I'm thrilled to bring Eyeota's rich audience data to the Japanese market. I look forward to working with the team."

Over the course of his career, Tommy has worked at Adobe Systems and Marin Software, as well as The Rubicon Project where he was pivotal in establishing the business in Japan, acquiring publishers, building the sales team and driving revenue.

Tommy received a Bachelor of Engineering degree from Waseda University in Tokyo, Japan and an MBA in Marketing from Seattle University in Washington. He currently resides in Tokyo.