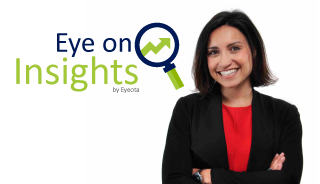 Jessie De Luca, Director of Activation, Insights and Analytics at Eyeota, shares the latest update in our new research-based series, Eye on Insights.
Here at Eyeota, we are in the business of data. Our Activation, Insights and Analytics team combines both internal data – derived from our 1.8 billion unique profiles and sales data – with extensive external research.

How this helps advertisers and publishers
Eyeota shares our findings about advertisers' audience
data usage and general consumer behaviour pertaining to the B2B market. If you are an advertiser utilizing audience data for the B2B market, this market update enables you to stay updated with the latest trends in audience data usage. For publishers with B2B data, this market update will inform you on the types of B2B data advertisers are purchasing to monetize your audience data.
Read More