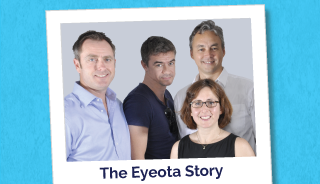 How did Eyeota become the global leader in audience data today? Kristina Prokop, Co-Founder and EVP Global Platforms, shares the Eyeota story in the Project A Ventures' blog:

How did you get the idea of founding Eyeota?
There is a lot of digital clutter and it can be challenging for brands to reach their consumers online. Our audience data helps advertisers to understand their target audiences in a new way – as real human beings – so they can serve them with relevant ads. Consumers are more likely to respond to an ad that meets their needs. No one is going to care about a holiday offer to Hawaii if you have just returned from one.

Where did you meet as a founders team? What's your founder's story?
I met my other co-founders Kevin Tan and Trent Lloyd while we were working at online advertising platform Adify, which was purchased by media conglomerate Cox.
While working at Cox after the acquisition, we saw a surge in programmatic advertising and audience-based targeting around the world. But there was a massive lack in the market for high quality audience data with scale and reach. A lot of companies were based in the United States, and merely applied the same data collection strategies to markets outside the US without understanding the needs of each market.
Eyeota was born in 2010. Chris Sandberg joined us as CTO in 2011 to provide his vision for Eyeota's innovative programming, tools and infrastructure. Today, we are the global leader for local audience data, operating in Asia-Pacific, Australia, Europe and the Americas.
Read More