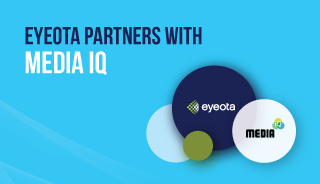 Media iQ, the global analytics and technology specialist, today announces it has formed a global partnership with Eyeota, the global leader for audience data.

The unique integration will allow Media iQ to utilize Eyeota's data segments to gain an unrivalled understanding of audience insights across every market they work in. In doing so, the analytics and technology specialist will be able to help clients make better advertising decisions before a campaign has even started. This will lead to better performance and less wastage, whilst driving more sales.

This announcement makes AiQ, Media iQ's advanced analytics technology platform, even more effective at generating business-changing insight for its advertisers. AiQ collects, stores and processes over one trillion data points per day, providing customers with valuable insights.

By teaming up with Eyeota these unique tools will allow advertisers to make the most out of their marketing investment and drive business growth.
Read More
Topics: Press Releases, Partnership