The Data Party: How Elections Are Driving Audience Data Worldwide
For a political candidate, every vote counts.
Elections advertisers are stepping up their digital spend to reach potential voters online. Eyeota's how-to guide presents a handy solution on the types of audience data segments elections advertisers can use to reach potential voters effectively.


Reach Potential Voters Online


According to a recent study by Borrell Associates, "Digital ad spend is likely to amount to $1 billion (9.5 per cent of total political ad spending) in the 2016 election season."

How can political advertisers target potential voters with audience data?


The targeting of election-based digital advertising campaigns can be improved with use of audience data. Audience data helps advertisers to build comprehensive profiles of a potential voter, so they can target the right users with relevant ads.

What audience data segments can be used to reach specific groups of potential voters?
Sociodemographic

Psychographic

B2B Sociodemographic data

Those who believe in a cause

Attainers / Business Professionals

Disengaged families

Rural residents

Over-75s

Students / young people

Politically interested / motivated, those with a particular party inclination



Elections Cheat Sheet




Looking to target potential voters?
We have got the audience you need!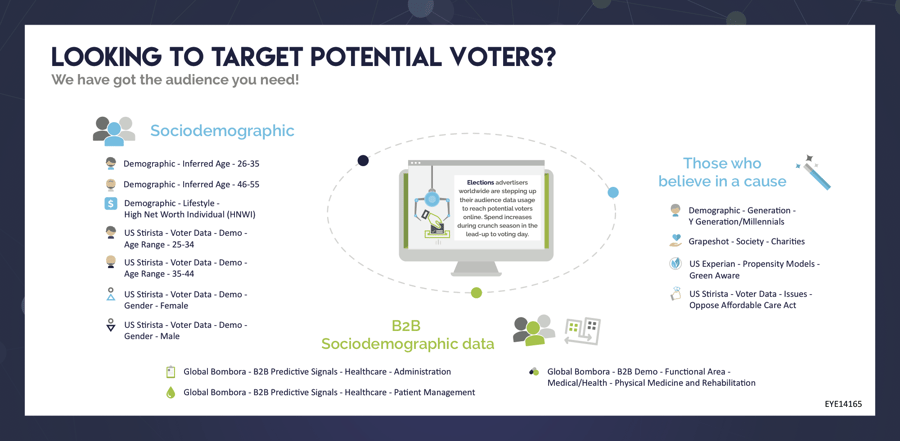 Download the Elections White Paper