∗Happy Chinese New Year∗

Chinese New Year is celebrated by over one-fifth of the world's population each year! Reach Your target audience using Eyeota Audience Data Segments
The Number #1 Global Provider of Audience Data




Offer Available On the Following Segments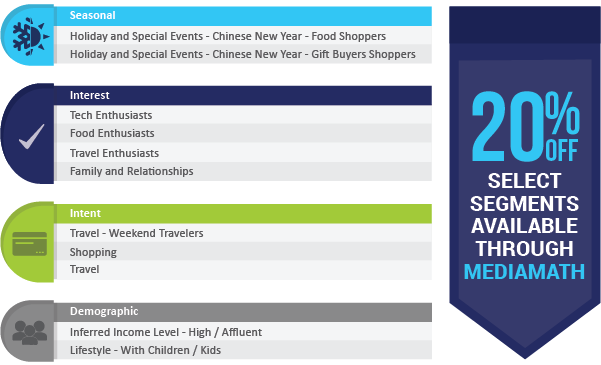 *Offer Available Through January 31st 2017


For a full listing of all our available segments and volumes, visit the Eyeota Audience Report Dashboard,
or email datadesk@eyeota.com





*Chinese New Year Fun Facts*


1. In Northen China people eat dumplings filled with meat, While in the south they eat those filled with ground peanuts. These dumplings are shaped like silver or gold ingots, to symbolize wealth.
2. In Mandarin, hair has the same pronunciation as luck. Hence, washing your hair on the first day of the
festivities is not encouraged as you will be "washing away your luck".
3. Sweeping the floor during the festival is frowned upon, as it is believe wealth will be swept away as well.

4. Chinese New Year falls on a different date each year as it occurs at the turn of the traditional
Chinese calendar.
5. The festivities take place over 15 days with different practices to be observed on each day.



Learn how we can help meet your advertising needs through the use of programmatic and audience data.