Eyeota Publisher Resources Center

A one-stop resources center to educate and empower publishers. Find out how to utilize existing data to generate additional revenue.

What is audience data?

Audience data is simply data points collected from individual browsers. It reflects real users doing real things on the Internet. More than 30,000 publishers worldwide have partnered with Eyeota to turn their existing audience data into additional revenue.
Want to learn more? Download Your Handy Guide to Audience Data.



How do you know if you have audience data?

If you have a website or blog, then the answer is YES!

We have identified the Top 10 Sources of Audience Data: View this checklist [infographic]


Ready to start monetizing your data now?




⇒ 5 Simple Steps to Start Monetizing Your Audience Data

Click here to download the 5 Simple Steps to Setup Data Monetization Infographic

⇒ Ready to join the Eyeota Publisher Network? All it takes is a simple process to get started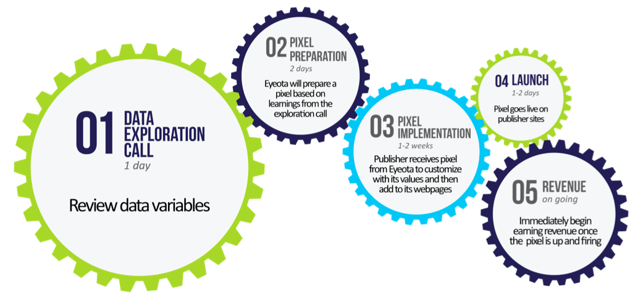 Click here to download the Infographic: Key Steps in Getting You Started in Monetizing Your Data

⇒ Revenue Share & Billing Process for Publishers


Please get in touch with us
Learn more about your share of revenue

Request for a copy of the Eyeota Billing Process and 2016 Billing Schedule



Articles | Case Study | Webinars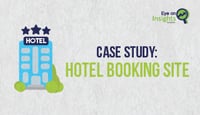 Case Study: Eyeota Reveals Untapped Monetization Opportunities for Hotel Booking Site
Challenge: Maximize publisher earnings throughout the year
Who: A hotel booking site
Symptom: Experienced decreased revenue after the peak travel booking season
Solution: Eyeota insights help to secure a consistent source of revenue throughout the year
Download the case study to learn how audience data can become a consistent source of secondary income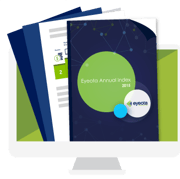 Webinars: Deep Dive on Audience Data Spend Trends
This webinar provides tremendous insights to data owners and publishers, so you can understand market trends and plan ahead. Highlights are:
Seasonal trends in audience data usage based on key advertising calendar events

Newcomers to audience data and advertiser sectors that are showing strong signs of growth

Top spenders in audience data and how their usage has changed year-on-year

Segment preferences across various advertiser sectors and what this tells us about their marketing strategies
Want to watch the webinar recordings now?
⇒ Watch Webinar Recording on APAC Audience Data
⇒ Watch Webinar Recording on EMEA Audience Data


A Partner You Can Trust
Eyeota is the global leader for audience data with offices in Berlin, London, Melbourne, New York, Singapore, Sydney, and Tokyo. We collect audience data from over 30,000 websites globally and have over 2 billion unique profiles. Our branded data partners include the most trusted information and services providers in the world. Some of the largest global media agencies use the Eyeota Data Marketplace to plan and target advertising campaigns. Read more about Eyeota.


Industry Partners Include



Safe, Secure and Private
Eyeota is 100% privacy compliant and only uses non-personally identifiable information. We work with numerous data privacy associations to provide world-class protection tools for our publishers and data providers. View our Privacy Policy.





Join Eyeota Publisher Network
For more information you can contact us at

publisher@eyeota.com