Infographics | Reports | Case Studies

| | |
| --- | --- |
| | Eyeota Data Desk |

Discover your audiences with Eyeota Data Desk.

Access custom curated segments and RFP support
Receive comprehensive recommendations and campaign advice
Gain exclusive insights on audience data trends, and much more
Contact Data Desk with your brief today & receive audience segment recommendations
straight to your inbox!

| | |
| --- | --- |
| | Infographics |
FMCG & Audience Data

The Data Party - the Elections Infographic

Beginner's Guide to Programmatic

Top 3 Myths About Programmatic
Which Data is the Best - Declared or Modelled?
Handy Guide on How to Use Audience Data
Stats About Data & Programmatic

Retargeting is Not Audience Targeting

Do You Really Need A DMP?


| | |
| --- | --- |
| | Reports |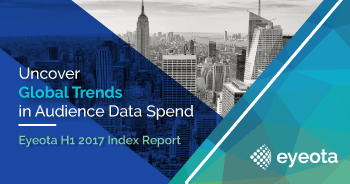 The Eyeota H1 Annual Index Report contains data tracking thousands of campaigns executed by hundreds of agencies across 60+ countries.

Eyeota 2016 Annual Index Report tracks how marketers across various advertiser sectors use audience data.

For advertisers, it provides a rare window into how their peers in their category are using data and which audience segments work well for specific advertiser sectors.

For publishers, it provides further insights about the most sought-after data segments, and the types of advertisers purchasing them.





Eyeota Audience Discovery Tool: Uncover new audience and target insights for your campaign

Find the most up-to-date regional and country audience data volumes.

Discover the most relevant audiences for your campaign by keyword search or most commonly searched terms.

Access segments by geo, partner, segment category or vertical.

How to "Sharpen" Your Online FMCG Ad Campaigns?

Eyeota presents a how-to guide on using audience data to "sharp-en" your digital marketing strategies. We highlight the best types of audience data to use for your campaign strategies to achieve maximum results in a handy cheat sheet.

For A Political Candidate, Every Vote Counts.

Elections advertisers are stepping up their digital spend to reach potential voters online. Eyeota's how-to guide presents a handy solution on the types of audience data segments elections advertisers can use to reach potential voters effectively.

Online platforms are where advertisers should target their sports fans. Digital advertising is nimble and responds to moments before, during and after an event at lightning speed. We highlight the best ways to reach sports fans using audience data for your online advertising campaigns.


Strike While The Iron is Hot to Influence Customer Decisions

The Back-to-School period involved a sizeable pool of retail dollars, making it the second-biggest retail event after the winter holidays. Eyeota presents our how-to guide on how to use audience data to target Back-to-School shoppers online.


| | |
| --- | --- |
| | Case Studies |